Footer Widget 1 - this one contains "About us " widget
If you check Email/Phone option, your contact info will be displayed. Contact information will be retrieved from Theme options page -> Contact & Social section. The same applies for Social Icons.
Footer Widget 2 - this one contains WordPress default "Pages " widget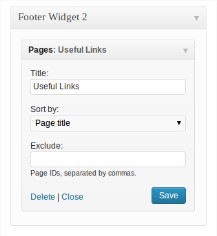 Footer Widget 3 - this one contains "Twitter " widget
In order for Twitter to work you have to go to Theme options -> Miscellaneous and enter the application details for Twitter widget. More details you cand find in this document in "THEME OPTIONS" section.
Footer Widget 4 - this one contains "Recent posts" widget
You can configure how many posts to display, content length, show/hide author image, display only posts from specific category or display all, display only specific post types.
Footer Level 1 - Widget 1
In our demo we used the "Support box" widget. Here you can put some text for support info and a button with link to contact area.
Footer Level 1 - Widget 2
Mailchimp Newsletter widget - In order for this wiget to work you have to set your API key from Mailchimp(instructions can be found in this document, section THEME OPTIONS). After you have set the API key you will be able to select the list to which the users will subscribe to.
Footer Level 2
Testimonials Widget - This one retrives testimonials entered from admin.
To add testimonials go to WP Admin -> Testimonials -> Add New Testimonial
Unlimited sidebars
Sometimes you want to have, lets say for you blog page, different sidebar. No worries, you can create unlimited sidebars and assign them to whatever post/page you like. Follow the following tutorial to learn how to do it.
Go to Appearance -> Sidebars
Let's create a Blog Sidebar. Click on the "Add New Sidebar" button
You will see that the new Sidebar has been created.
Next we go to Appearance -> Widgets. Add whatever widgets you like to your new sidebar.
Go to your post or page that you want to have the new sidebar and select it. Save the post.
Now go to your website and watch the magic happens.